Our team has been working on renovating this modern and beautiful Lincoln, MA home since last summer. The project has been extremely rewarding, teaching us new building techniques and allowing us to work with some talented designers.
The home was originally designed and built by Acorn Deck House Company. This local company is known for building one-of-kind homes, all featuring open floor plans, walls of glass and soaring ceilings. The homeowners loved the design of the home but wanted to make changes to the interior as well as update the exterior of the home.
We worked with local designer Caitlin Sweeney to help us design the new layout. These types of homes can be tricky to renovate mostly due to the fact that the wood ceiling planks are actually a structural component of the house… making it impossible to hide any wires or pipes in them. We were able to add fake beams and increase the size of the existing beams to make them useful while also enhancing the design of the house.
The homeowners wanted the house to feel as it was an extension of nature while also being modern. The large windows allowed us to frame the surrounding nature and the cedar siding makes the house fit perfectly into the rock foundation and neighboring trees. The cable railings, wooden ceilings, and sun-filled skylights help to complete this home. It's truly one-of-kind
Before: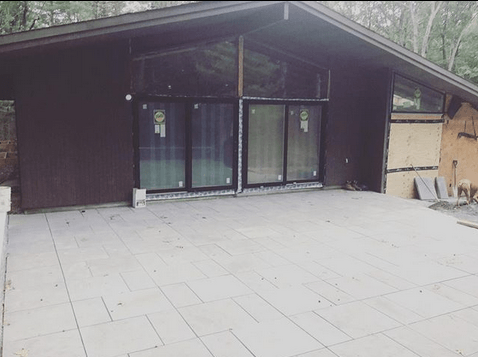 After – Exterior:
After – Bedroom:
After – Kitchen:
After – bathroom: