We're so thrilled to partner with Red Door DesignWorks on this blog post. This talented team is located out of Arlington, MA and specializes in home staging, renovation assistance and interior design. We worked with them on an attic renovation last year and are excited to share their design tips with you. Enjoy… These ladies know what they're talking about! Often times, homeowners start to consider furnishing and styling their newly renovated space once construction is complete. We are here today to say: HOLD UP… Thinking about decorating AFTER you renovate is too late!
1. Plan Around Your Must-Haves
Your renovation should perfectly accommodate both your lifestyle and your favorite personal belongings. Do you have a huge piece of art that you want to feature? Do you have a long dresser you love and want to keep? You will need designated walls for all these items.
On the functional side, there are many seemingly mundane but vital considerations. Here's one we have encountered over and over again—now that I've renovated my bathroom with amazing tile, windows and huge countertop… Where am I going to hang my towels?! Don't forget to plan for a spot for your towel bar.
2. Reveal Special Features in Advance
Help out your contractor by alerting him or her about ALL the special features you hope to have in your space. By learning about those right up front, your contractor will be able to better plan and guide the team—special features like heated floors, a wall-mounted toilet, and a sink in your kitchen island, can affect the structural build, electrical and plumbing.
3. Mind the Schedule
Renovations move quickly. It's a great idea to stay in close touch with your contractor about the schedule. This gives you the opportunity to make mindful choices around paint, finishes, tile, lighting and more. Making long-term decisions about these elements under a time crunch is not the best way to design a space that you will love for the duration.
4. Link Your Renovation with Your Existing Space
Renovated spaces should dovetail well with existing spaces… Be mindful of finish selections (don't select all brass fixtures if the rest of your house is brushed nickel) and paint colors (don't paint a room red if the rest of your palette is blue and green). By artfully handling your new space, the transition from original rooms to renovated one can be seamless.
5. Reserve Money for Furnishings
Sadly, once your space has been beautifully renovated, existing pieces often no longer fit the bill. If at all possible, try to set aside a small portion of your renovation budget for purchasing new items. We always recommend a minimum of $3K to $5K held in reserve for furnishings.
If provisioning with new items isn't an option, we counsel clients to consider every accessory, piece of art and furniture in the house up for grabs in the new space. Think of it as a house-wide redesign, and don't be afraid to move everything into a new location. We often find during the course of such a redesign that our clients already have everything they need to make it work.
Now go out there and have some fun designing your renovation!
Contact us if you need help with your home or business designs and decorations.
– Allison & Andrea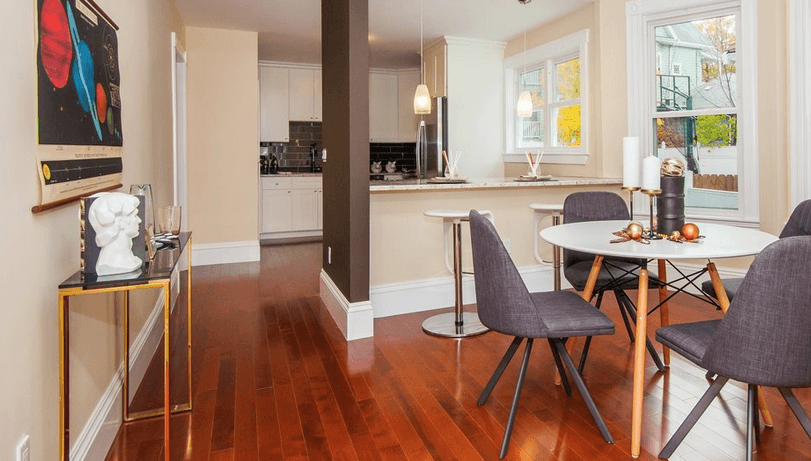 About Red Door DesignWorks: We are a Boston-area firm specializing in Home Staging, Renovation Assistance and Interior Decor. We love color, mixing styles and bringing our artistry to living and working environments. Collaborating with our clients to express their distinct personality is our greatest joy.