Hardwood & Tile Flooring: If your floor is starting to look scuffed and worn, we can give it a fresh new look with hardwood and tile flooring. Even if you are happy with your hardwood flooring, refinishing the floor will give it the shine it had when first installed.  Tile flooring also looks great and offers a customized look and feel to your home.  Tired of the old carpet in your home?  The many types of hardwood and tile flooring options available will make your home beautiful.  Whether you want to completely reinstall your flooring or simply refinish the hardwood, we are here to provide you with the best service around.
For examples of our hardwood & tile flooring click here.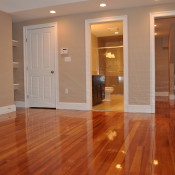 Kitchen & Bathrooms: Thinking about updating your kitchen or bathroom?  We can give you the kitchen and bathroom you have always wanted.  Everyone spends much time in the kitchen and new cabinets, flooring, appliances, and paint will give your kitchen a fresh new look and feel.  If you need work on your bathroom, we will provide the comfort and convenience you desire from your bathroom.  Since kitchens and bathrooms are still in use during construction, we will work directly with you to provide the best service possible.
For examples of our kitchens & bathrooms click here and here.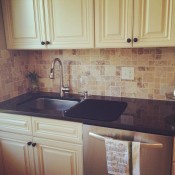 Windows & Doors: Windows and doors are very important to your home and we provide customized services to meet your needs.  Windows are necessary to maintain a steady temperature in your home and your old windows could be costing you money in lost energy.  New windows will not only look better, but will help you save money on heating and air conditioning.  Doors also help keep drafts outside and provide security and safety for your home.  We can customize doors to fit your needs whether you need doors for the front door, inside your home, or even for your shed.  Contact us to install new windows and doors whether you want to improve the energy efficiency of your home or improve its appearance.
For examples of our windows & doors click here.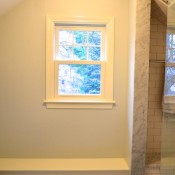 Interior Painting: A fresh coat of paint, interior or exterior, will give your home a fresh new look.  The appearance of a room starts with the paint on the wall and we want to bring the elegance and color a fresh coat of paint can bring.  Our expertise in painting will provide the services you need and allow you to enjoy a customized experience with the options you have with interior painting.  The exterior appearance of your home also begins with the paint job.  A high quality exterior paint job shows how you feel about your home and improves its curbside appearance.  McDonald Contracting wants your home to look its best and we have the expertise to provide the quality service necessary.
For examples of our interior & exterior painting click here.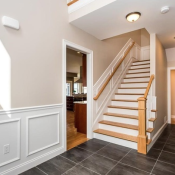 Basement: Whether you need a new staircase, wall, or a complete basement makeover, we can provide the service you seek.  Turn your unused basement space into living space you can enjoy however you please.  Basement space can be used to make a great new office, home theater, guest suite, game room, or just add square footage to your home.  We want you to enjoy your basement space and will provide services to make use of your entire home.
For examples of our basements click here.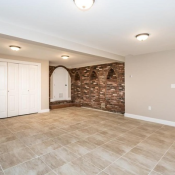 Custom Shelving: We provide services that include custom shelving and carpentry for your homes.  Installing shelving will allow you to store items wherever you want in your homes.  Our custom shelving services look great and will meet your personal needs.  We use our expertise to provide any carpentry services you may need.  Whatever changes you want to make to your home, we provide high quality carpentry work to meet your desires.  Contact us with any custom shelving or carpentry needs.
For examples of our custom shelving & carpentry click here.