Decks, Porches, & Patios: Greatly enhance your home with a new deck, patio, or porch.  A new personalized deck will give you a place to relax outside where you can enjoy seating, a grill, and more.  We can provide services to build a new deck for you to enjoy or provide maintenance on your existing deck.  A patio is another great option for outside of your home.  Patios are beautiful areas to relax and improves the appearance of your landscaping.  Custom designed patterns for your patio will give your home the look you desire.  A beautiful and secure porch will also add to the appearance of your home while also serving a purpose.  McDonald Contracting will provide the custom experience you want and we will work to provide the best service around.
For examples of our decks, porches, & patios click here.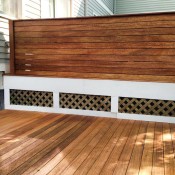 Walkways/Steps:  Revamping and updating the entry adds curb appeal and increases the perceived value of any property. The options to update or build a new walkway are practically limitless. We have a large variety of materials that can be used to create one-of-a-kind, stunning walkways. From different types and styles of pavers to fieldstone, whatever you choose to build your walkway with will be breathtaking.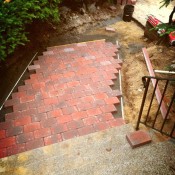 Roofing & Siding: Improving your roofing and siding will greatly enhance the exterior appearance of your home.  Having a secure roof will protect your home from leaks and drafts.  We will install the type of roof you want on your home to increase its appearance and provide the insulation you need.  Installing new siding on your home will give it a new look and help insulate the home.  We offer many siding options that are easy to maintain and provide the home with the energy efficiency you need.  Contact us if you are interested in improving the appearance of your home and we will provide the quality of work you deserve.
For examples of our roofing & siding click here.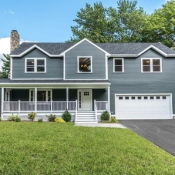 Gutters: Homeowners generally forget how important gutters are to their home.  Old and damaged gutters can result in water damage and mold.  Newly installed gutters will help protect your home from these potential damages and improve its appearance.  New gutters will greatly improve the appearance of your home and are worth replacing.  Do not let old gutters bring down the appearance of your home and contact McDonald Contracting today.
For examples of our gutters click here.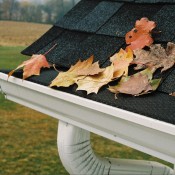 Masonry Work: McDonald Contracting is the best source for any masonry work you are thinking of pursuing.  Walkways, driveways, stairs, retaining walls, and other masonry jobs are all services in which we excel.  We are the contractors you need if you are planning on needing masonry work to increase the value of your home and improve its appearance.  Installing granite is also a great way to make your home really shine.  The many different granite designs allow you to customize the look of your countertops.  Granite is reliable, beautiful, and an upgrade in any home.  Contact us with any ideas you like to discuss about improving your home.
For examples of our masonry & granite click here.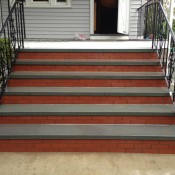 Exterior Paint: A fresh coat of exterior paint will give your home a fresh new look.  The exterior appearance of your home also begins with the paint job.  A high quality exterior paint job shows how you feel about your home and improves its curbside appearance.  McDonald Contracting wants your home to look its best and we have the expertise to provide the quality service necessary.
For examples of our interior & exterior painting click here.